Additive manufacturing, popularly known as 3D printing is a process that involves making three dimensional solid objects using a digital file. Decoration of 3D printed object is done using attitude processes. The additive processes creation creating an object using layers of material one by one until the object comes out. Each of the layers is a thin slice of the horizontal cross-section of the final object.
3D printing finds a variety of applications in diverse industries. The technology has popularity as such.
Choosing a 3D Printing Parts Supplier
There are numerous3D Printing Parts Suppliers global. You can choose one of them. If you're looking for a reliable supply of 3D printing parts, remember to choose China-based LOXIN Mold Co., Ltd. The company offers customized services as per client requirements at affordable cost and on time.
What are the benefits of 3D printing parts?
There are multiple advantages of the 3D printing process. They're as follows:
The process is fast
The main benefit of 3D printing is that it is a returnable process of manufacturing to go at a fast pace compared to the traditional manufacturing method. The designs can be taken from the CAD model and the part can be verified and developed at a faster pace.
It's a one step process
It is an efficient process of manufacture. Process of 3D printing starts with the model designing fabrication is done accurately.
The machines can finish the build in just one step. The single step rules out the need for diverse processes of manufacturing including, welding, machining, and painting.
Economizes cost
Even the volume of production is low, 3-D printing can make the product at a low cost. The production of prototypes is much cheaper than alternative processes of manufacturing.
Easy customization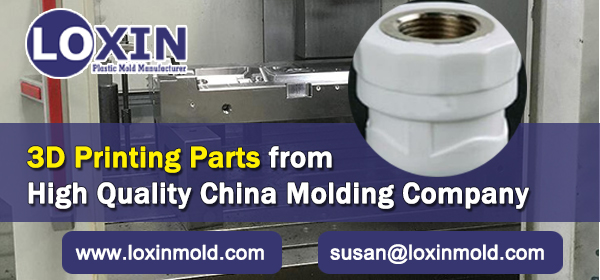 3D printing finds wide application in medical and dentistry industry to make custom prosthetics and dental aids. Things such as custom sunglasses and or a sporting gear meant for an athlete can be designed, developed and made using this technology.
LOXIN Mold Co., Ltd
In view of the diverse benefits, 3D printing has gained popularity. However, it is important to choose a reliable company.
One such company is LOXIN Mold Co., Ltd. Based out of Taizhou City, Zhejiang Province, China, the company has made great strides and earned the repute as a reliable rapid prototype manufacturer not only in China but overseas as well.
The company owns the LOXIN brand, under which it designs, develops prototypes using 3D printing, and manufacturing molds using the best technologies.
The company's CNC machining factory enables it to bring the best products and services to the customer. The factory applies 3D printing technology to make a range of products as desired by customers.
Why choose LOXIN?
At LOXIN Mold, the earnest endeavor is to gain customer satisfaction and it is the foremost priority. Diverse teams including management team and quality control staff work in a coordinated fashion. Such an approach helps reach a better understanding of reality and what actually the customer is looking for.
If you're planning to buy 3-D printing parts, choose LOXIN Mold Co., Ltd the best among 3D printing parts suppliers. Contact them by email.