What is Injection Molding?
Injection molding is a manufacturing process where large volumes of plastic parts are produced. In this process, a hard tool is created severally out of steel then used to mold huge quantities of plastics. The success of the injection molding process depends on the manufacturer's ability to deliver top-grade products within the shortest time and at the lowest cost. Loxin Mold is a high-quality Plastics Mold manufacturer and supplier in China. To help us deliver the best, we employ various strategies and practices.
Our best practices for mold design
For a more streamlined production, we put more emphasis on the process and not features. With the use of a design process that covers all milestones and deliverables from price quotation to final product, we are capable of producing exclusive products. We identify all the inputs and outputs in each stage along with expected quality. This translates to an improved design process and the manufacturing process turns out to be smoother. Apart from improved product quality, it also helps us to reduce delivery dates.n
Before the design process, we begin with a quotation. Perhaps, this is the first step and lifeline of our manufacturing process. The quote incorporates design standards and approaches like material shrinkage, tip positions and part rotation among others. The quote also has to reflect on how the design and engineering procedure will be executed.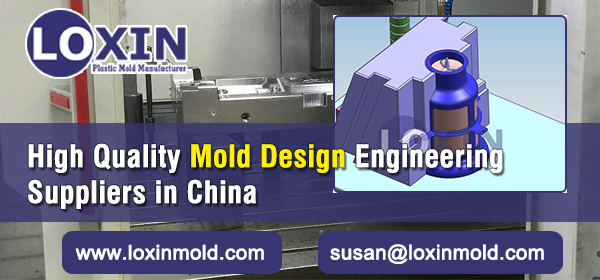 We leverage the design process with a software that helps us in the simulation of melted plastics flow in the injection molding. The move aids in predicting any manufacturing defects before they happen. It also aids in forecasting how the final product will function and any area where it might fail before the actual manufacturing process begins. In addition, the use of a simulation software also leads to time and cost savings. We work with various types of software including Auto CAD, CATIA, PRO/E, and UG among others. We also use different universal formats including STEP, IGES, DXF, DWG, and Parasolid and more.
Being the leading injection molding company in China, we understand the importance of correct mold design. With the proper material selection and customer requirement tolerance, we are capable of delivering the right tool for the task.
Why should you consider Injection Molding?
•It is repeatable and not repetitive.
This means the second part that is produced is virtually identical to the previous one. This is ideal in case you want part reliability and brand consistency.
•The ability to scale mass production
Provided the initial cost has been paid, the price per unit becomes low. Moreover, as more and more parts are produced, the cost drops significantly.
•Quality production parts
You get exact, repeatable parts through the entire mass production and at the expected quality.
At Loxin Mold;
•We give great consideration to the design process to help deliver expected product quality.
•We use simulation software to guarantee you a flawless injection molding process.
•We have a comprehensive understanding of injection mold designing.
•Our injection molding procedure is quick, responsive and dependable.
•We deliver products for different applications like automotive interior and exterior use, electrical housing, medical hardware and business equipment and many more.
For quality injection molding services, contact Loxin Mold, the leading China mould design company today.