Are you looking for a reliable plastic injection molding manufacturer with great products and extremely reliable terms of service? If so, this write- up will give you some reasons that makes our factory i.e. LOXIN Mold the right choice for your plastic injection molding needs. Our company LOXIN Mold is situated in China. We are a licensed and bonded injection plastic molding factory that is committed to offer customers in need of our items exceptional and exceedingly desirable services. Here are several factors that make us the leading plastic injection molding manufacturer in China:
#1: Accuracy and Precision
Our plastic molding procedure is very accurate. As a highly accurate and hence reliable processing approach, our plastic molding procedure is utilized to produce a range of diversified plastic components of almost all kinds.
Despite the existence of certain design restrictions, our injections mold are manufactured in adherence to the terms of the government and are always of high quality and hence extremely reliable.
#2: High Efficiency
Our plastic injection molding is famous worldwide since it is amongst the few technologies utilized for long production time periods. Our plastic injection molding procedure undergoes long production periods since it is very fast and therefore highly efficient.
Courtesy of our plastic injection molding manufacturing process, though the speed of production may be determined by how complex the mold structure is, on average there is approximately 20 seconds interval between the cycle times.
#3: Saves Labor Cost
Our injection molding facilities need little and sometimes none human supervision. We strive to work with self-gating, full automatic equipment in order to ensure a streamlined operation as well as continuous production.
#4: Highly Resourceful
We really care about the well- being of the people living around our factory and therefore we make sure our production procedure assists with waste elimination and environmental protection. Our plastic injection molding is not only an effective and highly efficient procedure, but also very resourceful. The reason behind this is that only the required plastic amount is utilized to produce the products desired and any excessive material is recycled and utilized at a later date.
#5: It is Flexible
Our plastic injection molding procedure is not only accurate, but it is very flexible as well. This indicates that our company can change varying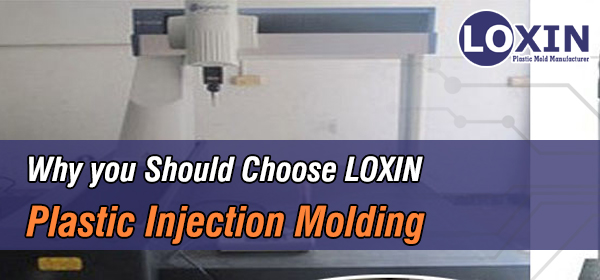 materials with ease during the course of production. Any time we desire to change the shape of any item, our production team just removes some steel and be certain we will achieve whatever we wish.
#6: Cheap and Light
In our plastic mold injection factory, the plastic material density utilized is often lower than metal. Also, the plastic injection molding exercise is one-time and hence does not require a second machining. This means it is cheaper than metal.
Bottom Line
There are more and more reasons that make us the best plastic injection molding manufacturer and thus the right choice for your needs. For more details about our factory LOXIN Mold, including the products we make and supply or how you can link with us anytime you are in need of our products and/or services, do not hesitate to call us or visit our website at https://www.loxinmold.com/ for a consultation and quote on all the products and/or services we provide.