If you are planning to improve your business by finding the best manufacturer of plastic injection auto head lamp molding in China then you have come at the right place. LOXIN Mold is a mold making company in China that manufactures quality auto head lamp moulds and base for head lamps base as per the requirements of its clients.
About Loxin Mold
This China mould maker company is known for molding a wide variety of products including automobile accessories, home appliances, consumer products and various other products at a very reasonable price. They provide high-quality solutions for a wide range of industries in a cost-effective manner by using their technical proficiency, expertise and knowledge. They are expert in designing, engineering and molding all types of plastic products used in various industries all over the world.
Loxin Mold and automobile industry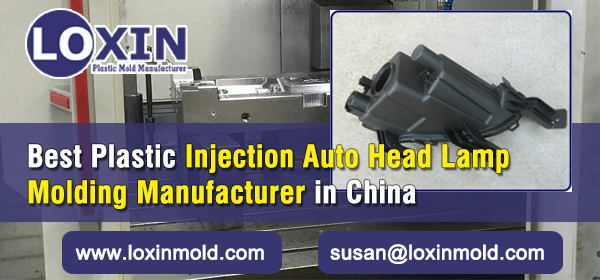 As plastic mold manufacturer Loxin Mold manufactures various types of plastic parts for automotive industry as per the demand of its suppliers. The team of their experts uses its skills and past experience to manufacture various auto parts as per the demand of the market. The auto parts they make through plastic molding may include switch penal for the front door power window, switch penal for power window, instrument penal, auto head lamp mould, switch penal of the rear door power window and holder etc. their professionals are dedicated to provide continuous support to the market by producing products as per the need of the market.
Reasons to choose LOXIN Mold
You should choose LOXIN Mold as your China Mould Maker Company due to various reasons briefly discussed here under.
Experience: The existence of this company in this industry since many years has allowed them to earn vast experience in injection molding. They have served a large number of satisfactory people during these years by providing the auto head lamp moulds and moulds of other parts as per their choice.
Licensed and covered company: Loxin Mold has been licensed as plastic mold manufacturer to manufacture various types of automotive parts legally in China. They are also bonded to spare you from any kind of compensation for damages caused by their workforce due to their negligence.
Online accessibility: You can contact them anytime round-the-clock as they are available online as well as offline to discuss the injection molding related issues in-person or online. You can also place your order online so that it can be shipped to your destination as soon as possible.
High quality auto parts: Being plastic mold manufacturer they focus on manufacturing high-quality plastic products for any industry including automotive industry. So you can get high quality products and services from this company whenever you want to buy something form them.
Safe and fast delivery: When you place an online order with Loxin Mold then you can get your products safely at your destination wherever it is located in this world.
Thus, Loxin Mold is the best plastic injection auto head lamp molding manufacturer in China for you. They can fulfill your demand for auto head lamp mould as plastic mold manufacturer in China.