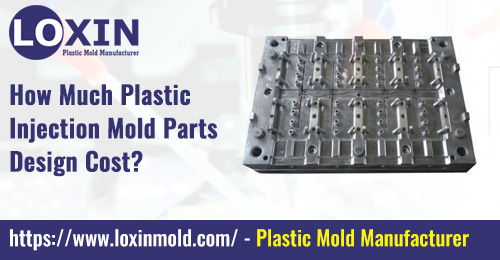 How Much Plastic Injection Mold Parts Design Cost?
A plastic mold can cost from $2,000 to $100,000 depending on the type, material, complexity, and size. However, you can find a decent machine for an ordinary production line for roughly $15,000.
Injection mould prices
Asking for an injection moulding machine is akin to asking for the price of a designer dress. Depending on the label, it can be anything from $100 to $50,000 or more. However, determining the price of injection mold cost cannot be as monopolistic as designer clothes. A reliable injection plastic machine and plastic molding manufacturer would not inflate the price and keep it reasonably close to the original cost in building it. In this context, we would like to recommend LOXIN Mold Company for its superior quality of products, reasonable prices, and great customer support.
However, the cost of an injection moulding machine for a project can be worked out by considering the operational load, raw material, and the repair and maintenance cost.
How to determine the cost?
For determining the injection mold cost, you need to look at the part sizes, material, complexity of the structure, and the production quantities. If the product, for example, is a simple washer and the production quantity that you are looking at is a thousand pieces a year, you can use a single cavity mold that would produce a single piece of the product each machine cycle. If this is the production quantity for which you want the mold to be prepared, your cost would be in the range of $1,500 to $2,500.
But if you are looking at a more complex product like an Xbox controller and the production quantity is 500,000, this is certainly a different story. This would need a more complex mould structure. The number of the cavity would also need to be increased to meet the production figure. This kind of mould can cost in the range of $50,000 to $100,000.
These examples represent the minimum and maximum cost scenarios while your requirements are more likely to fall somewhere between these two extremes. When you buy injection machines and moulds from LOXIN Mold Company, the company tries to understand your requirement in all their details and tries to develop the required machinery at the minimum cost without compromising on the quality. As a result, the company can supply an average plastic injection moulding machine for about $15,000. This is an anticipated amount that can give you an idea of how much your plastic injection mould machine may cost. The actual price can vary depending on your requirements.
LOXIN Mold Company
LOXIN Mold Company has a state-of-art production facility that can build moulds of any requirement or specification. It offers its services from conception to design to final production in an integrated manner. It offers the entire range of services in the plastic injection molding space. The prices that we talked about above are only illustrative. They can vary dramatically as per your requirements and specifications.
Taking into view the fact that price estimates of injection moulding machine can be of critical significance from the conception of a project to its completion, we try to be as much open and transparent about the pricing as possible.
Material cost matters
An important factor that can dramatically increase or decrease the cost of injection moulding machines is the material used to make the mould. An ordinary mould would suffer a great deal of wear and tear if it is made to produce products out of fiberglass. For the production with this kind of material, you would need mould made with good quality steel. You can see how you need moulds made with different materials to treat different kinds of raw material. The cost of the material with which the mould is to be built can impact their pricing.
Work within the budget
Sometimes, you may have a set amount of budget for the moulds to be built. If this is the case, you should better tell you mould builder and ask him to advise you how the mould of your specifications can be made within the price target that you have. Having more cavities in the mould allows you to do production faster but they add cost for the mould builder. By talking with the mould building company, you can find a balance between your needs and the complexities of the mould.
Final thoughts
Though prices for injection moulding machines can vary drastically, talking with the moulding company can allow you to find a way to work within your budget. In this context, user reviews seem to recommend LOXIN Mold Company. You too can check out with them.
https://www.loxinmold.com/wp-content/uploads/2020/02/How-Much-Plastic-Injection-Mold-Parts-Design-Cost-LOXIN-Mold.jpg
260
500
luxinadmin
https://www.loxinmold.com/wp-content/uploads/2022/04/YL-LONG-logo.png
luxinadmin
2020-02-17 11:26:01
2020-02-17 11:26:01
How Much Plastic Injection Mold Parts Design Cost?