When it comes to choosing the right size of molding factory for your company it's a little tricky situation. Your choice is likely to be influenced by diverse factors. The conventional wisdom is the larger the size of the unit, the more it will be preferred presumably because the larger units are endowed with required resources and therefore competent to fulfill the customer expectations. However, the problem is when the size is bigger, the attending cost will be higher, as a result, the product price is not competitive in the market.
Opting for a large mold manufacturer
Customers do not like the level the molding factory fixes prices at. The more important thing is how the manufacturer deals with their customer.
Customers look for a good mould manufacturer and they tend to make them as a partner. It is critical that a supplier meeting customers' expectations optimally is the ultimate choice. If you own a company that does not have healthy finances or your purchase volume with the large manufacturer is not significant, they may not treat you well when you seek succor. You will not be treated well by them because you are unable to meet the spending expectations though you might have paid an amount that is big for you and it is a minuscule amount for them. In other words, as you are unable to place an order big enough for them, you are not a profitable customer for them.
SMEs – a better option
As customers become unhappy because they are not received well by the large scale mold manufacturing units, they veer round SMEs. SMEs are a preferable option thanks to their favourable treatment and price policies.
However, a concern that may occur later whether the delivery of the plastic mold design is going to be timely with the promised quality; whether the mold is going to achieve a reasonable amount of success when it is produced on large scale.
What's the way out?
Under the circumstances, the best solution is to take into account your intuition that when there are so many options, you need to choose a molding factory that is fully equipped. The manufacturer needs to have all the supporting machinery including slow wire cut machines, high-speed high precision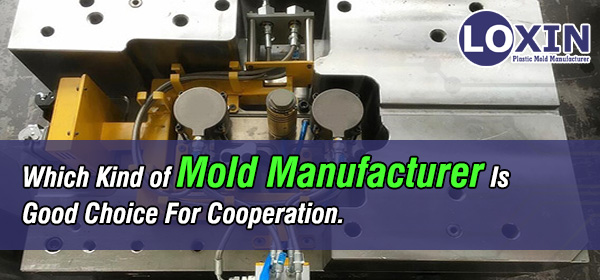 injection machines, EDM, 3D/2D measuring instruments – all that are essential for production processing and testing of moulds.
This should be the guiding principle while choosing a mould manufacturer by checking them, evaluating and take a decision.
About Loxin
We at Loxin, the lead China Mold Manufacturer are obsessed with quality are focused on plastic mold design and manufacturing for home appliances, the automotive and other sectors. Our ulterior objective is to make our customers happy and become a cause of our customers' success.
We have highly skilled and professional engineers who offer quality service to meet our customers' expectations. We directly interact with our buyers to enter into business bypassing intermediaries to keep product price at an optimal level as all the cost has to be borne by the customer.