Whether you seek custom injection mold for prototype presentation or need a large volume of plastic molds ready for shipment, you are going to come across numerous offers. A simple Google search for mold manufacturers from Chine will present hundreds (if not thousands) of results. While landing a mold manufacture is never a problem, choosing dependable businesses can be a little daunting especially if you do not know what to look for. Fortunately, we have been providing custom injection molds for over 15 years and have mastered how to distinguish competitive manufacturers from the rest. Here are a few insights to help you choose the best mold manufacturer from China.
Compare business reputation with personal interaction
Every other business claims to have a thriving reputation in the market and while this may be true, you do not always have to take them for their word. It is important to compare what the market is saying with what you are actually receiving. Instead of trusting user reviews and flamboyant testimonials that may be falsified, contact the mold manufacture and examine how they render their services. Here are some questions to guide your review;
How is their customer service? – Great mold manufacturers will handle al RFQs promptly and answer all your questions. They will also have multiple communication channels that can be used

Do they connect you to knowledgeable personnel with the engineering background to answer all your questions? – Talking to a skilled professional will allow you to lay out all the details needed to create your custom mold without any problems or misunderstanding. It is far better than speaking to a sales girl who has little experience in mold engineering.

Can you meet? – Face-to-face meetings with your plastic molding maker will help relieve some of the tension and clear uncertainties. Manufacturers should arrive on time to your meeting armed with all the necessary information. They should at least answer most of your questions on the spot and offer help on how you can get your molds. More importantly, you should be able to visit their site and assess their facility to gauge capacity, quality and reliability.
Compare more than two manufacturers
Never settle for the first China injection mold manufacturer you come across. They may as well be the best offer after all, but it is always recommendable to compare up to five manufacturers just to see the difference. Manufacturers have varying
offers and strengths. Sending RFQs to 3 or more manufacturers will help you identify differences in cost, professionalism and customer support. Interacting with different engineers will also expose you to different ways of looking at the project. For each manufacturer, request reference customers and ask important questions that will help you understand how they render their services. If most clients are satisfied with the service they received, it is a good sign.
Experience and guarantees
It is preferable to work with a China molding company that offers quality guarantees and has been in the market for a decade or longer. Experienced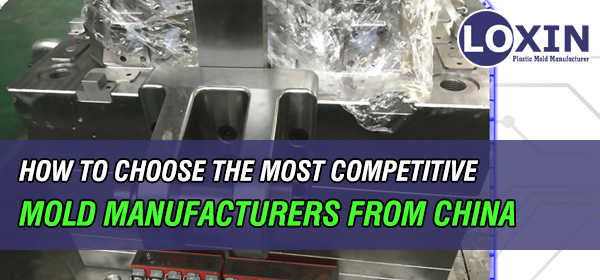 manufacturers and engineers will quickly understand your proposal and probably have a streamlined framework for service delivery. Offering quality guarantees on the other hand is an assurance that your molds will be delivered on time as requested. If the standard delivered does not correspond to what was agreed on, they are either replaced or refunded. Your plastic mold maker should have the capacity to deliver their promise within the specified time. If there are any breakdowns, you should be informed early enough.
Quality custom injection molds
Loxin Mold has been providing custom plastic injection mold for various applications ranging from personal to industrial. We have customers around the globe and pride in delivering high quality services and molds to all our customers. Contact us today for any inquiries including appointments, site visits and custom mold orders.