Plastic injection molding industry is becoming a major field which attracts thousands of businesses and generates a high amount of profits every year. With the increasing demands for plastic parts and components all over the world, more and more manufacturing companies are interested in this area. From automotive, engineering, to home appliances, these would be an effective yet affordable solution to improve product quality and reduce costs. But first, it is important to choose the best China injection mold making to best suit your products, industry, and production requirements. Here are a few important factors to consider.
1. Capacity and volume specialization
With thousands of injection mold maker manufacturers in China, it can be overwhelming to choose the best one for your business. The first thing to start is to narrow down the list based on your size and volume requirements. If you want to produce a prototype quickly for a part test, then low or moderate volume manufacturers with less than 10,000 units in capacity can be a great choice for you. Also, these companies are ideal for those applications which do not require a massive number of parts (like agriculture, aerospace, or medical devices). High-volume makers with more than 750,000 components, on the other hand, will be best suited those industries which require small-sized molds.
2. Extended technology and services
Not every injection mold maker manufacturer offers expanded technology or services needed to design components for manufacturability. In addition to usual options, choosing a molder who can provide advanced choices such as part design, prototyping services, in-depth analysis of mold flows, or quick response manufacturing would help your business create timing efficiencies and valuable costs.
Keep in mind that the highest efficiency with the overall project budget and time often occur early in the growth cycle, particularly in the process of designing. That's why it's important to select a manufacturer which could join in the designing process to understand your goals and predict any production problems before they happen.
3. Efficiency and quality
Another important thing you should look in a mold maker manufacturer is that they should be committed and established to offering the highest-quality products. Here's a list of important questions to ensure the efficiency and quality of the options:
– Do these companies own efficient and high-quality machines which work well?
– Do they focus on eliminating dysfunctional variability which could cause rework like organizational problems?
– Have these manufacturers been recognized as a well-known or trusted company in the industry? Have they won any awards for their performance?
– Do they provide a robust maintenance program?
– Are their products ISO certified?
– Does the used project management software ensure a high level of efficiency and communication throughout the whole process of designing and developing?
– Do your components need to meet high quality and safety standards or go through any strict inspections?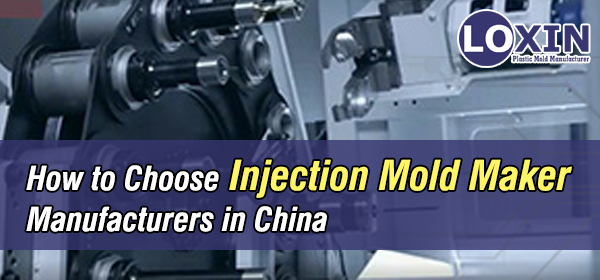 4. Product applications
The intended application for your products or parts is also an important thing to keep in mind when choosing a mold maker manufacturer. In fact, you should keep this in mind during the process of designing, developing, and manufacturing. For example, if you are working in the automotive industry, then the plastic prototypes should have the needed level of tensile and strength for enduring typical conditions in the plants. Thus, you need to go for those companies which can give you the best recommendations to fit the final use.
5. Time
Typically, it often takes from 4 to 12 weeks to build a mold, depending on the complexity of the project, the requirements, and the capability of the manufacturer. Those companies which provide fast services aren't necessarily the best. Instead, you should ensure a balance between the time and quality. In other words, they should create the highest-quality molds in the quickest time. This will save you a lot of money and effort to meet your manufacturing goals.
These are some important factors that you should take into consideration when choosing plastic injection molding suppliers. By following this guide, you will streamline the whole process and ensure you can find the right partner for your business. If you are looking for a quality-focused and experienced injection mold maker manufacturer in China, then Loxin Mold is a great choice to consider. With many years of experience and advanced systems, we can provide customized and premium products in the quickest time, thus creating more value for your business.