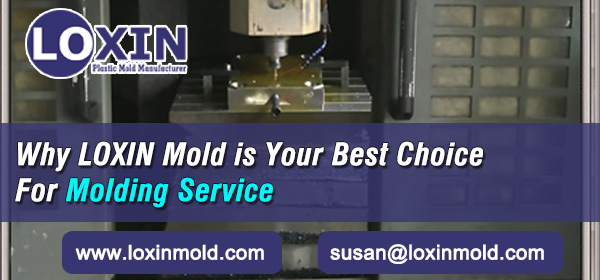 Why-LOXIN-Mold-is-Your-Best-Choice-For-Molding-Service
Why LOXIN Mold is Your Best Choice For Molding Service
LOXIN is China's injection mold making manufacturer. With the in-house Manufacturing, LOXIN has the capacity and the technology along with modern tools and equipment to create the top-notch custom injection mold. Since its Inception, LOXIN has been focusing on quality exports which mainly go out to European and North American countries.
LOXIN plastic mold manufacturer takes pride in its adherence to HASCO and DME International standards. LOXIN produces approximately 25 units of plastic injection molds each month with the process lasting between 25 and 35 days. This rate largely depends on the complexity of the design requested by the client.
Why LOXIN?
LOXIN brings invaluable quality to customers by ensuring that its plastic molds adhere to top quality assurance standards. The China mold company it's committed to providing only the best products to its customers by subscribing to the best quality management system and a lean manufacturing focus. It is through this process that LOXIN can provide these products at it will cost without sacrificing quality.
This rate largely depends on the complexity of the design requested by the client. It is the quality of the product that matters most, which is why LOXIN works very closely with the client to ensure that all of their needs are met.
Design
As with any product, the design is also a factor. For without good design, there is no good product. LOXIN utilizes a Mold Flow analysis software program to simulate the plastic injections' flow through the plastic. This is helpful to ensure the least amount of product defects before the molding.
It is through the understanding gathered during this process that enables LOXIN to ensure that the correct mold design is selected in order to support the material you have chosen. This process also ensures they have the necessary tolerance requirements, allowing us to build the tools that you need to get the job done. With the advances in technology, LOXIN can adapt to the ever-changing world for molds manufacturing and get your order to you quickly and accurately.
Our team
LOXIN's team could not be the leading China mold company without a top-notch team. Our staff of highly skilled and seasoned mold makers is well-versed in the vigorous demands of tight tolerances, rigorous requirements, and short lead time imposed by its customers. Our skilled workforce, in addition to a strict control process ensures that our molds meet the highest of standards every single time. Along with a high-quality product, you are also receiving technical support, efficiency, speed, and quality.
Choose LOXIN
Hopefully that when you are looking for a high-quality plastic mold manufacturer that you will consider LOXIN for our quality and design. LOXIN strives to ensure the very best mold is manufactured so that you can do the same for your customers.
LOXIN takes great pride in our work, from the inception of the project to delivery. LOXIN hopes to hear from you soon so that they may help you to provide only the very best to your customers for many years to come.
https://www.loxinmold.com/wp-content/uploads/2019/10/Why-LOXIN-Mold-is-Your-Best-Choice-For-Molding-Service.jpg
280
600
luxinadmin
https://www.loxinmold.com/wp-content/uploads/2022/04/YL-LONG-logo.png
luxinadmin
2019-10-06 20:39:52
2019-10-06 20:39:52
Why LOXIN Mold is Your Best Choice For Molding Service