Washing machines manufacturers
Washing machines have truly liberated laundry workers so that they can now do so many other activities in the house and still have time for themselves. The machines make sure that you clean your clothes, sheets, towels, etc so easily without any hassle unlike if you were to hand wash them. All you need to do is to just add detergent and set the machine to do the rest of the work for you. With the current rate of development and the increasing daily needs, you would not want to lag behind without a washing machine.
Choosing a supplier:
Washing machines offer the convenience of all kinds. But considering that there are so many manufacturers and suppliers in the market, it can be daunting to get a perfect one for a kind of washing experience you need. Before purchasing any product, you will always need to consider personal requirements.
The things you might need to consider in this case are such as the type of washing machine-top loading or front loading; the wash load capacities; the spin speeds; the wash programs; the wash temperatures; the water supply; the noise level; and of course the efficiency that is rated from A to G where A is the highest and G is the lowest. One more thing, you will need to consider the size of the washing machine depending on the space available in your laundry or preferred location.
When you narrowed down your requirements, it is time to match them with the top available supplier, who will give you a good machine at an affordable price for that matter. Well, when big brands finish designing a new machine, they usually run to Europe mold makers to help them customize the most suitable injection mold with the aim of getting plastic parts with best performance and appearance.
Sure enough, most of these companies shrink up at the sight of European mold price. Want to know why European prices are so high? It's because they barely have their own mechanisms of making molds. They have to outsource the service and this beckons the high prices. In the last 26 years, Loxin has helped European companies make the best mold.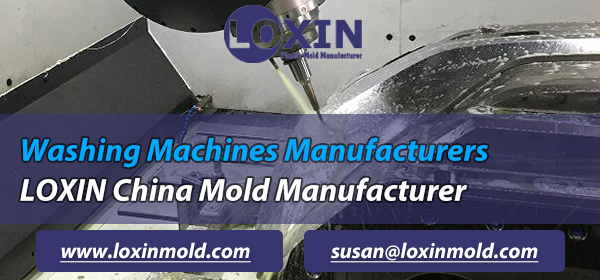 Loxin Mold:
Loxin is a distinguished company that makes washing machine plastic part injection mold. With so many years of experience in the industry, Loxin has managed to gain a large market share for plastic molds, with its largest markets being Europe, North America, Middle East, and Asia, among others.
Just like most purchasers, you might be worried about China mold quality. There is no reason to worry because even the suppliers you think are of good quality, European suppliers, for example, rely on China to help them make quality mold. It turns out that China is the core mold maker for all markets. So, if you are buying mold from China, you will get it at a better price "the China price" than other regions.
Loxin Mold must be precisely the best choice of mold making China-based company. The combination of quality and an unbeatable price would make it hard for you to resist our offers. Stay woke. Don't buy mold at a high price when you should have visited https://www.loxinmold.com/ for better deals.